---
As I type these paragraphs, US-armed terrorists are closing in on my native neighbourhood of Kafoufèy, in Port-au-Prince, Haiti. Family members and friends have reportedly scattered in panic, hoping to save their lives. As such images and sounds of terror haunt the sleepless nights of 14 million Haitians on the planet, I point to a recent note penned by Pamela White, former US Ambassador to Haiti, who served during the reign of chief Parti Haitien Tèt Kale (PHTK) bandits Michel Martelly and Laurent Lamothe. In her note, Pamela White summons her friends and allies in Haiti's infamous "private sector" (code word for the warlords of Groupe Macaya, Haiti Chérie, the BAMBAM, PHTK+) to hire mercenaries, by any means necessary, to fix the "problem with Haiti", once again. Her Op-Ed published in various outlets around September 2022 was promptly followed by rumours, then confirmation, of Kenyan police / mercenaries heading to Haiti.
"imagine the richest man of Canada was Joseph Mercidieu, a son of Haitian immigrants who got caught importing illegal weapons for the most murderous gangs of Montreal and Toronto. Would it suffice putting Mercidieu on a list of individuals to be sanctioned with trade and travel restrictions"?
"No, he'd be in prison or out on a high bond!" answered Marie-Nadine to my hypothetical quest, formulated on Twitter.
As you probably guessed it, this rhetorical question of mine was inspired by real world events. However, these do not concern persons reputed to be the richest in Canada. Nonetheless, there is a genuine Canadian connection to my Tweet which actually concerns Gilbert Bigio, a man many claim to be "the Haitian billionaire".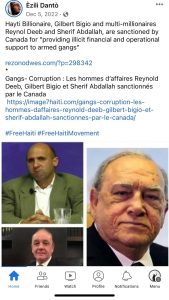 Unlike imaginary Mercidieu, real world Gilbert Bigio owns multiple businesses around the globe. His conglomerate GB Group S.A. is said to cover an endless range of economic activities. From their website, one can read: "Gilbert Bigio Group (GB Group) is a business conglomerate with diversified arms in the business arenas of media, construction, logistics, consumer goods, finance, energy, trading, infrastructure, and more. It offers garment and textile production, ship dismantling, business park and residential construction and development, telecommunication services, and more". In this regard, Bigio's real life Canadian counterpart would actually be David Thompson whose net worth has been estimated to $54 billion. Whereas Thompson shares the distinction of billionaire with dozens of fellow Canadians, Gilbert Bigio and his heirs are understood to seat alone on the Haitian billionaire club. Judging from information that sporadically syphons out about him, over past decades, the list of undisclosed "and more…" activities that occupy Bigio might actually be significantly longer than the array of official initiatives listed on the GB Group S.A. website.
A Jew from Syria whose father landed in Haiti in 1896, Israel's former honorary consul in Haiti for 25 years, Bigio lives in a small area of ​​Miami called Indian Creek Village that has only 32 houses and where his neighbours include the daughter of former US President Donald Trump and several celebrities. Bigio controls many facets of Haiti's economy, with effective monopoly on a wide range of products that people use every day. His group is the exclusive importer of products from Kraft, Heinz, Mondelez, Philip Morris, Plastifar, Goya, Hormel, Gourmet, Banda Eco, Kim, Puritex, Clean Boy, Bactrosan, etc…
According to Haitian Twitter page Pou laverite ak pou listwa (translated "for history and truth"), Bigio does not accept competition. He is deeply embroiled in the infamous Petro Caribe funds scandal where, reportedly, up to $4.2 Billion dollars has "mysteriously" evaporated. The money was earmarked for desperately needed infrastructure works that never came to fruition.
This April 2018 article by investigative journalist Corey Lynn claims that Bigio has an army protecting him and his business in Haiti, with police and military chiefs in the country on his payroll.
"He does not allow competition and will crush anyone trying to compete with everything he produces or imports. He has a private army of about 80 men protecting himself, his home and establishments. He also makes full use of every military, paramilitary, and police force in the country. Every chief of police is on his payroll. Every powerful member of the defunct military is also on his payroll. He controls the ministry of finances, the Authorité portuaire nationale (APN). He has close ties to IDF (Israeli Defense Force), and uses about 10 Israeli commandos for his personal security when he feels the situation is at a critical point."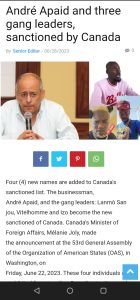 The following article (and few others accessible online) which explores Bigio's entanglement in the Pandora Papers scandal might also help the reader review further facts about the individual who is sometimes dubbed "the richest person in the Caribbean" and who happens to be a citizen of Haiti, the country often described in world media as "the poorest of the Western Hemisphere". Alas, this is not the weirdest or most disturbing paradox concerning multi-billionaire Bigio and extremely impoverished Haiti.

The Indian Creek (Miami, Florida, USA) exclusive resort resident, is one of a dozen major warlords featured on lists of individuals said to be "sanctioned" by their (former?) friends and allies in North American power circles – on account of alleged collusion with vicious gangs of kidnappers that are causing much terror in Haiti with incessant murders, torture, internal displacement / gentrification, forced migration, statelessness etc…
Seemingly with much reluctance, on December 5, 2022, the Government of Canada added three members of Haiti's infamous white warlords, namely: Gilbert Bigio, Sheriff Abdallah, Reynold Deeb to its list of individuals accused of "seeking to profit from chaos and impunity in Haiti, and of arming and directing gangs to pursue their political and business goals". On June 21, 2023, André Apaid , Junior, a fourth among Haiti's infamous big sharks was added to the Canadian list. Astute observers noted a disturbing phenomenon. Even in announcements of sanctions against major Haitian criminals, there appears to be observance of a stubborn racial hierarchy. The very first names listed on November 2, 2022 were those of 2 black Haitian politicians:
Youri Latortue
Joseph Lambert
Then, a mix of dark and lighter skinned (grimo) Haitians joined Canada's list of undesirables, on November 17, 2022:
Rony Célestin
Hervé Fourcand
Gary Bodeau
Michel Joseph Martelly
Laurent Salvador Lamothe
Jean-Henry Ceant
Suspicion of "good cop, bad cop" shenanigans by the so-called "international community" (aka Blan Malveyan)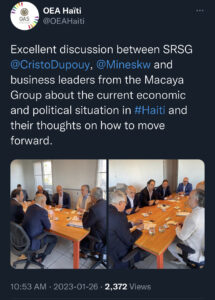 On December 5, 2022, same date that Canada announced sanctions against the first 3 white warlords: Abdallah, Bigio and Deeb, the Miami Herald published an article where it states: "In anticipation of sanctions, some members of the private sector, including Reuven Bigio, who chairs his billionaire father's GB Group conglomerate, have been meeting in Miami and Haiti under the auspices of a new entity called the Macaya Group. There have been discussions about coming up with a 10-year investment plan for the country and weighing in on the ongoing political paralysis". The Herald adds… "Recently, members of the group met with former British diplomat Jonathan Powell, who traveled to Port-au-Prince and met with members of the political class, including Martelly".
The Organization of American States (OAS) which coordinated Powell's meeting with the Macaya Group (and bragged about it on Twitter) and Canada, which pretends to sanction the same Macaya klan, are both part of the infamous Core Group. The latter being the odd neo-colonial club of foreign diplomats which effectively makes all major decisions in Haiti since the 2004 Coup. The Core Group is a non-legal entity made up of the ambassadors of the US, Canada, France, Brazil, Spain and Germany as well as representatives of the European Union, United Nations and Organization of American States established in Haiti.
Among other primary objectives, US armed paramilitaries (aka gangs) are mobilized to destabilize and control the voting population of Haiti, so that whenever the United States eventually gives the green light to hold "elections" in the occupied territory, the ultimate outcome will inevitably be another US puppet. The latter shall be empowered to guarantee white oligarchs, multinational corporations and associated PHTK party maintenance of key power and privileges, under this dis-order established by force in Haiti, since decades.

Please see: https://jafrikayiti.com/what-ought-to-be-canadas-policy-towards-haiti/
"The System" – camouflaged foreign tutelage whereby non-Haitians assume most powers but accept zero accountability.
After the January 12, 2010 earthquake, the UN boasted receiving pledges for $13 billion to be collected in the name of Haitians. Former US President Bill Clinton was appointed (by non-Haitians) Co-Chairman of the Interim Haiti Recovery Commission (IHRC), along with Haitian Prime Minister Jean-Max Bellerive. The pair was trusted to manage IHRC funds. Clinton traveled around the world, proclaiming his gospel, determined to "build Haiti back better". Anyone who's been to Haiti over the past decade can observe a total absence of evidence that billions of dollars were ever spent on Haitian infrastructure or anything of the sort. Just as Venezuela's Petro Caribe funds, which were rendered equally invisible, Haiti reconstruction billions were embezzled in coordination with the US-established Parti Haitien Tèt Kale (PHTK) dictatorship, spearheaded by public amuser/ drug dealer, turned "Hillary Clinton-chosen puppet president of Haiti", Michel Martelly.
The Haitian population has, thus far, been denied opportunity to bring even a single PHTK criminal to justice. They are all, systematically, protected by their powerful accomplices among corrupt elites of the United States, Canada, and Europe.
If for nothing else, the very existence of Canada's list of sanctioned individuals (almost 100% PHTK government officials or business associates) serves to underscore that the real forces behind so-called "Haitian gangs" have long been positively identified. Yet, except for members of Haitian Civil Society, no government, no international entity (Interpol, FBI…) has mobilized effort for their effective arrest. Logically, the so-called "Haitian" PHTK+ government is not in the least interested in the proposition to arrest Florida, USA, long-term resident bosses Gilbert Bigio and Michael Joseph Martelly.
Now, what about the much-talked-about international police or military force? Could it not, at least, help Haitians subdue paramilitary terrorists?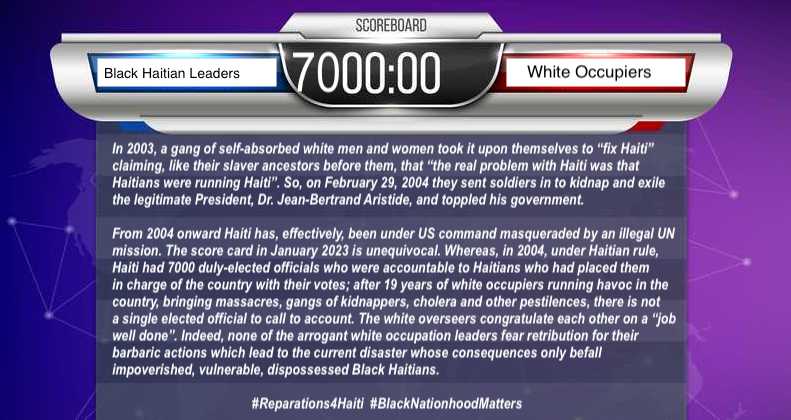 History and common sense inform us that foreign interventions in Haiti serve to protect US-allied criminals, including local white warlords. The Haitian population knows this all too well. We remember how 1915 Yankees, FRAPH-CIA allied 1994 US troops and 2004 UN troops (MINUSTAH) engaged in multiple massacres – in popular neighbourhoods, killing thousands of impoverished black Haitians with bullets, rapes, other sexual violence and cholera contagion, in 2010.
As pertains to the current surge of paramilitary kidnappers and terrorists, several reports, including those of the UN, confirm that deadly weapons held by Haitian criminal paramilitaries come almost exclusively from the United States. These so-called gangs who terrorize the impoverished population – kept constantly on the run, collect several million dollar kidnapping ransoms. Oddly so, it's never from millionaire victims, but from diaspora-based family and friends of poor and middle-class Haitian victims.
Existence of direct collusion between paramilitariy kidnappers and terrorists, the criminal PHTK party and the white warlords featured on the Canadian list is a long-established fact. For instance, this past June 28, 2023, a surreal discussion occurred at a conference organized by Université Quisqueya where Robert Muggah, a researcher who spoke on Day 1 of the conference, matter-of-factly identified Ariel Henry (the US-appointed "leader of Haiti") as key sponsor of the brutal 400 Mawozo gang of kidnappers. Ariel Henry who was also present and, in fact, spoke to open the conference (see 59:00), uttered not a word to contradict Muggah; neither did other participants. It is noteworthy that infamous 400 Mawozo terrorists in question have their base of operation right in the vicinity of the humongous US Embassy in Port-au-Prince.
If the political will existed to crush paramilitary terrorists in Haiti, US authorities would have long ago stopped the flow of guns and ammunition from the US into Haiti. And, within weeks, the population in coordination with Haitian police would positively stop the progression of these criminals. However, because what's really at stake here is maintenance of hegemony by the white warlord families in Haiti who are financing US-armed terrorists, such practical actions are not entertained by the Biden administration.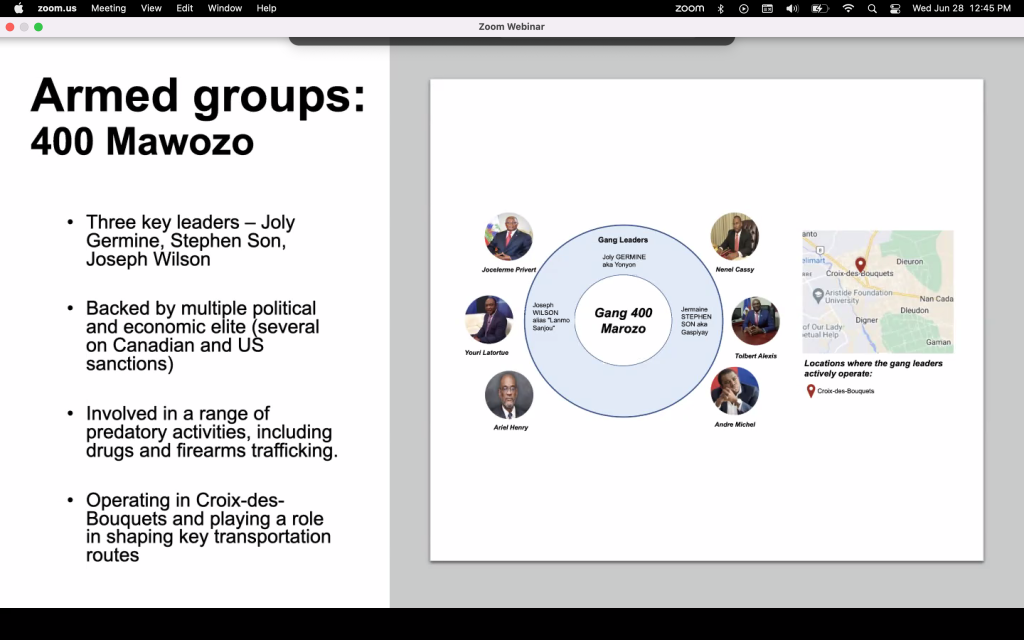 2023 Haiti is in a situation somewhat similar to Apartheid South Africa. This is rarely exposed in mainstream media because of persistent collusion between corrupt elites in the United States, Canada and Europe, and those white warlord families who control the economy of Haiti using blackface puppets in the fake PHTK government.
It is noteworthy how André Apaid protested perceived betrayal by his long-time Canadian allies. In his public statement, Apaid laments how: "On the question of gangs and disarmament: each of Canada's ambassadors since 2004, with the exception of the one in place, Mr. Sébastien Carrière, whom I have not met, has witnessed my efforts and my contribution. This is also the case for most ambassadors of friendly countries and United Nations representatives and their staff…".
As I often describe in my writings, socio-economic racial Apartheid is one of the primary ills plaguing my native Haiti. What Apaid has done with his note of protest and cautious reproach constitutes a clever appeal to historical "solidarite ant blan malveyan" (solidarity among mischievous whites) on our Caribbean island. Indeed, as per colonial times, there exists a web of connections between the Port-au-Prince-based white ambassadors, NGO directors, food importers and sweatshop owners, all of whom live in the same neighbourhoods, send their kids to the same schools and have developed an acute sense of (Apartheid-like) community in Haiti. Mainstream media has consistently maligned the real victims of this barbaric Apartheid-like situation. Purposefully, they propagate a host of racist stereotypes which sustain an imagined "besieged class of white-do-gooders requiring protection against savage others in wild Haiti". Never mind that those "others" in question are, in fact, black Haitians, the rightful owners of the Island of Liberty.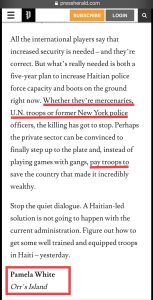 I persist to say: this endless conflict raging in Haiti cannot be understood, let alone solved, if its racial dimension is systematically avoided, side-stepped or its importance underestimated. The white warlords who are the primary culprits, are aware of their power and of the precious impunity they shamelessly enjoy thanks to powerful cousins/allies in North America and Europe. So was it for 20,000 white slavers in pre-Revolution Haiti of 1791. So was it for European merchants who received millions of dollars in compensation thanks to gun-boat diplomacy bullying which was enforced by mobilized militaries of France, Britain, Spain, Germany, the US, among others, throughout the 20th century.
I posit it is no coincidence that the same white families who begged US Yankee troops to invade and remain in Haiti, back in 1921, are the direct ancestors of Acra, Bigio, Apaid, Boulos, El Saieh… Zuraik.
There can be no remaining doubt that Pamela White's desired invasion of Haiti is meant to, once again, serve the interests of a group of US-allied criminals who fear the wrath of angry, impoverished black masses. As reported in that May 2023 article of The International : "A journalist incessantly questioned me about whether there was any nuance in our stance, whether we would support intervention, and I adamantly replied, 'No'… We even had a banner that read 'Canada out of Haiti,' and the story about the demonstration had a striking headline: 'Haitians are calling for Canada to intervene' – they already had their preconceived narrative."
Remember: Pamela White had also advised Biden on the best manner to get rid of former Haitian puppet President Jovenel Moïse. White's March 12, 2021 testimony is still accessible online, here. July 7, 2021, Moise was effectively "put aside", 4 months after White's admonition to do just that. The gang that killed Moise includes several hires of US agencies (FBI, DEA) and mercenaries from Colombia. Was this a case of misunderstood directives? Whatever the case, one takeaway message for me is that Mrs. White's wishes should never be taken lightly.
But what about applying more sanctions, like Canada?
Back in 1993, like Canada is now doing, the US drew a list of major warlords who were supposedly "sanctioned" for collusion with Haitian paramilitary criminals involved in the 1991 coup which removed President Aristide from office, the first time around. Can you guess whose names were on that 1993 US Office of Foreign Assets list? Indeed, the same culprits, including white warlord Bigio who only became richer during the years of so-called "anbago", through contraband via the Dominican Republic border which fuelled his tax-exempt import-export monopolies.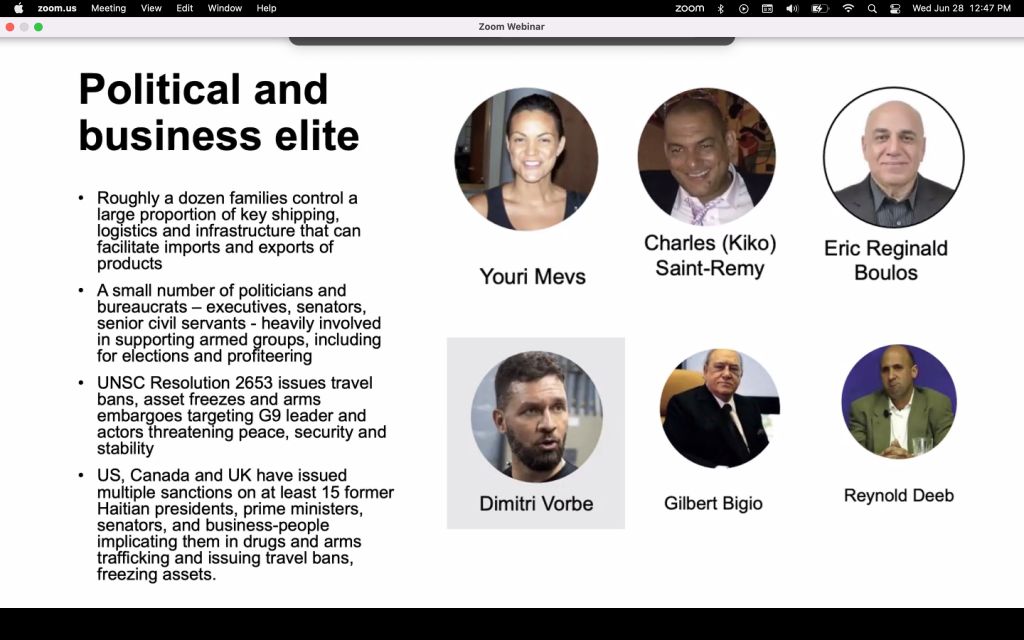 In fact, a few weeks after the September 30, 1991 CIA-backed coup which toppled President Aristide's first democratically-elected government, I was shopping in Gilbert Bigio's downtown Port-au-Prince jewelry store when, with my own two ears, I overheard Bigio siblings bragging how they've lobbied so expensively to place former CIA Director, George Bush Sr., inside the United States White House; Therefore, they won't tolerate betrayal from the US President if he were to ever let then-exiled Jean-Bertrand Aristide to return to the island. Thus spoke 2 local "Blan Malveyan" who were absolutely confident and assured of the impunity they enjoy – thanks to US wicked might.
What would it cost the US Government, this one time, to stand on the good side of history and arrest Gilbert Bigio & Michel Martelly who currently reside in Florida? This is not a rhetorical question. We, Haitians, know how costly shocking impunity enjoyed by these two warlords, under the shields of the US and its subservient states, has proven to us all.
Why focus on Bigio and Martelly, one might ask, when the list of criminal warlords features so many names?
Arresting Martelly, the former US puppet "president of Haiti", whose ongoing connections with paramilitary terrorists is amply documented, a prime suspect in the Manzanares drug affair, the Petro Caribe fund embezzlement scandal, etc… would send shockwaves among other PHTK criminals. Such an arrest would signal to paramilitary terrorists the near collapse of their weapons and ammunition supply. Martelly's arrest, coupled with that of Gilbert Bigio, would offer much-needed hope that, after two centuries of racist and malicious US war on black Haitians, genuine peace is in sight. For, let it be clear, nothing will change fundamentally in Haiti unless economic power and privileges usurped by all warlord families are drastically diminished. These men and women who claim private ports where they import war grade weapons and ammunition will never suffer the advent of any progressive government voted in by the people of Haiti. Such would inevitably threaten their hegemony and, in reaction, they will not hesitate to, once again, finance a deadly US-backed coup.
In closing, let us all admit that, under my hypothetical scenario, few readers can honestly doubt that billionaire criminal Joseph Mercidieu would have been quickly and appropriately dumped into a dark Canadian jail.
Social Justice activists and people of conscience worldwide hereby reiterate the just, logical and timely demand that Canada, the US & Europe collaborate with all efforts by Haitian society to nationalize every asset currently held by criminal warlords who are suspected to have hidden much of their loot beyond Haitian borders. With recuperated stolen assets, the Haitian nation could establish a Haiti Building Fund that legitimate Haitian governments would, henceforth, access for the national budget.
To me, that's fundamental. Just like P.W. Botha and associate criminals of Apartheid Azania, the US-backed warlords in Haiti must fall, by any means necessary!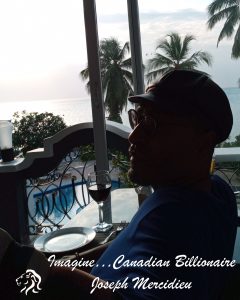 #BlackNationhoodMatters
#ArrestBigio
#ArrestMartelly
#ArrestApaid
#Arrest Abdallah
#ArrestDeeb