The following text was first published on Facebook in July 2019. Many disturbing allegations it contains have recently been verified. However, key elements of this note do not appear in recent reports such as this piece by Maria Abi-Habib, published by The New-York Times on December 12, 2021. What accounts for these differences?

Perhaps, time shall eventually reveal who was holding what secrets and why. Meanwhile, both Jovenel Moïse and Arnel Joseph are no longer available to speak their own "truth".
The following unofficial translation was done by the owner of this website. Please see below for the original text that was published in French, on Facebook, as early as July 27, 2019.
***
Arnel Joseph speaks like a nightingale
Suffering and in pain on his hospital bed, Arnel Joseph must and does speak, telling everything to Haitian Police inspectors (DCPJ) if he wants to continue to access appropriate care.
By comparing his statements with elements found on his phone and that of his number 2 gang associate, arrested days earlier in Tabarre, the first conclusions DCPJ inspectors reach suggest that this country is absolutely doomed, sold to "the devil and its servants".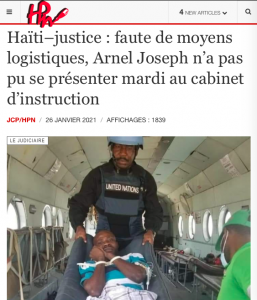 A simple soldier, back in 2011, Arnel was already dealing with Tèt Kale party leaders and the Honorable Gracia Delva who was then a Député (member of the lower chamber of parliament).

Here are a few snipets for you to savor…

The first political boss of that gang which Arnel inherited was Jean Fritz Jean Louis, who has been funding Arnel's associates, since 2011. Fritz Jean Louis was at that time Secretary of State for Territorial Communities Ministry (MICT), alongside the very powerful Minister Thierry Mayard Paul.

Arnel had served time in prison and Fritz Jean Louis was one of those fighting for his release. Arnel says that even in prison he received money from MICT. He also points out that it was Michel-Ange Gédeon, then West Department Police Director (DDO), who had arrested him. Years later, the same scenario occurs again. His rise to power between 2017 and 2018 was due to the problems faced by then powerful, now deceased, gang leader "Tèt Kale".

He says his release was concocted with the support of one of his friends, an agent of the BOID Police Unit, who was deployed to Minister Ardouin Zéphirin' security detail (2015-2016). From this emanated privileged ties with Ardouin and Vladimir Paraison, who were respectively: Minister of Interior and Commander of BOID at the time, and who got him released from jail.

Back in power under Jovenel Moïse, Ardouin Zéphirin and Vladimir Paraison got back in touch with Arnel and, without hesitation, he followed them. From the start, Paraison was very clear with him: Arnel had to help him reach the top position, Head of the National Police Force, by causing the premature resignation of Michel-Ange Gédéon. He, who was a simple bandit, immediately became a key part of a mafia network that had tentacles everywhere.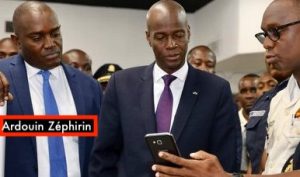 He said he had DDO with him ever since Director Soljour's time. He had no problem when it comes to accessing money, food, cement and iron. He could hijack BRANA, Crown, MEGA, TCHAKO trucks without worry.

He became so powerful that he was able, in no time, to recruit the best soldiers from rival gangs. His number 2 was recruited from Grand Ravine. He says he suspected an imminent betrayal on the part of Ardouin Zéphirin and Fritz Jean Louis since that day when rival "Ti Je gang" benefitted training sessions delivered by foreign shooting experts (Vietnamese and Colombians, all expenses paid by Ti Vlad, Martelly's bodyguard) who taught Ti Je's soldiers how to make "Creole" (artisanal makeshift) weapons and how to shoot professionally. He says he suspected that Ardouin was preparing another gang to replace his. And, around this same time, two of his best soldiers migrated to the "Ti Je" gang in order to benefit from these trainings, because every gang member aspires to be a gang leader. Chief among other things, knowledge of weapons is a major asset to become chief.

That May 2017 evening, his career as a bandit was going to climb to proportions never before reached, after a meeting with Allan Zuraik and Esther Antoine, two special advisers to President Jovenel Moïse. He says it was Ardouin Zéphirin who put him in touch with Allan Zuraik, owner of Safari Motors (Jeep and Porshe dealer at the Nazon Turn).

Zuraik, a good friend of Gracia Delva, recommended Arnel to Reynold Deeb who needed someone to monitor the environment at Port-au-Prince customs. He found Arnel at the right time. Indeed the war was waging between Deeb and Bigio who had launched the gangs of Chancerelles and Bas Delmas. In Arnel, Deeb found his game-changer for the control of Lower Town and, thus, won the war against Bigio. Since then, he has elevated Arnel among his important pawns.

Deeb imposed a Prime Minister and then, the same day, Arnel got arrested! Simple coincidence? What a coincidence !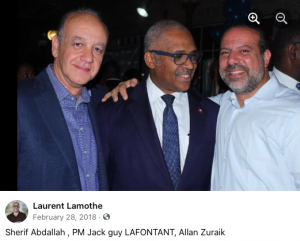 Shocking statements: he says, in the pay of Deeb and Zuraik, he personally led kidnapping operations against people and goods, in complicity with two Police inspectors, among whom Désir Faveur Gabriel, an inspector who is arrested for having communicated with him on a regular basis.

He kidnapped people under the orders of another inspector whose name still remains confidential. The victims were kidnapped by street men, but the money demanded was handed over to the organizers, the Syrian-Lebanese members of a group called Haiti Chérie. Arnel says it wasn't just Deeb and Zuraik, but the others weren't as visible or up front.
He says he never worked with or for Gracia Delva per se. On the contrary, it was Gracia Delva who lived off him and he even went on to say that Gracia was abusing him.

He explains how, after 3 well-conducted kidnapping operations for Allan Zuraik and Reynold Deeb, he received USD 25,000 and Gracia Delva received a Porsche Cayenne for having facilitated this deal. The DCPJ and American Justice are actually investigating these 3 hot cases. The 3 victims bought 1 Jeep Grand Cherokee, 1 Porsche Cayenne from Safari and a BMW X4 from Appolo Motors. Zuraik and Deeb had them kidnapped, took back the cars, and sold them to a powerful car theft network operating between Haiti and the Dominican Republic, controlled by 5 Haitian Parliamentarians and 3 Dominican Senators and entrepreneurs. So sad !

He says that the theft of cars and motorcycles is very profitable and he cited the names of Hervé Fourcand and Rony Celestin as Senators who are involved in this business and with whom he has often worked. He says he is never going to reveal his relationship with Gary Bodeau because the latter was always cool with him and was the first to oppose those who wanted to have him eliminated since May 2019.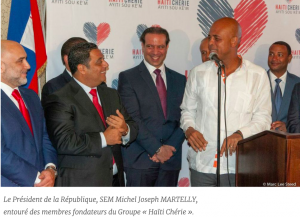 What is not said? NGOs were the prime targets of these kidnappers. Arnel describes how someone explained to him why all-terrain cars like Toyotas, Nissan Patrols and Pick Up Amarocks were favoured. He says dealers of these all-terrain vehicles alone manage the lucrative NGO contracts. So, competing dealers have these cars involved in kidnappings in order to discourage NGOs from buying these all-terrain cars that the bandits favour from Hinoto and Nissan. And, in the NGO community, we believed in this formula. Since then, NGO officials have concluded it is easier to steal a Toyota Land Cruiser instead of a Jeep Grand Cherokee or a BMW, so they buy the cars that get stolen the least.

He says he started to really get into politics from the night of October 5, 2018, when President Jovenel Moïse congratulated him on his courage after he stood up to (Police Chief) Michel-Ange Gédéon who issued a $2 million bounty on his head. He received a call from Ardouin Zéphirin warning him of an important in coming phone call. At around 6 a.m. he picked up a Senator's call and it was President Jovenel Moïse at the other end of the line. The president told him Gédeon is the real bandit. The president tackled Gédeon and expressed strong support to him (Arnel) that night.

Another highlight for him happened in February 2019, when he received a call from Ti Vlad who introduce him to Michel Martelly. The latter said to him "Kòmandan Nel mwen konte sou or pou or voye je sou kay mwen yo pou mwen ke bann Lavalas kaka yo vle boule" (Commandant "Nèl", I count on you to watch over my houses that a bunch of Lavalas shit heads wish to burn to the ground).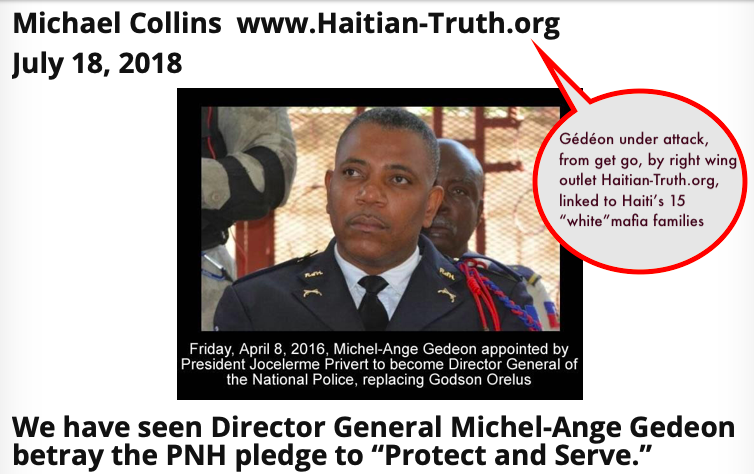 As Martelly took off, he also left money for Arnel along with some ammunition. Arnel says he sent soldiers to watch over Martelly's houses in Péguy Ville as well as Saint Marc. Arnel claims to be in possession of good quality ammunition from Vietnam to last 8 days of relentless battle against the Police. He claims this ammunition comes from Ti Vlad. Nothing more to say! To be continued …

The next questioning session is scheduled for next Tuesday, a session focused on kidnapping cases. The next threatens to ignite the Republic. Stay focused! Private conversations with a loved one, recipient of report # 1. A citizen.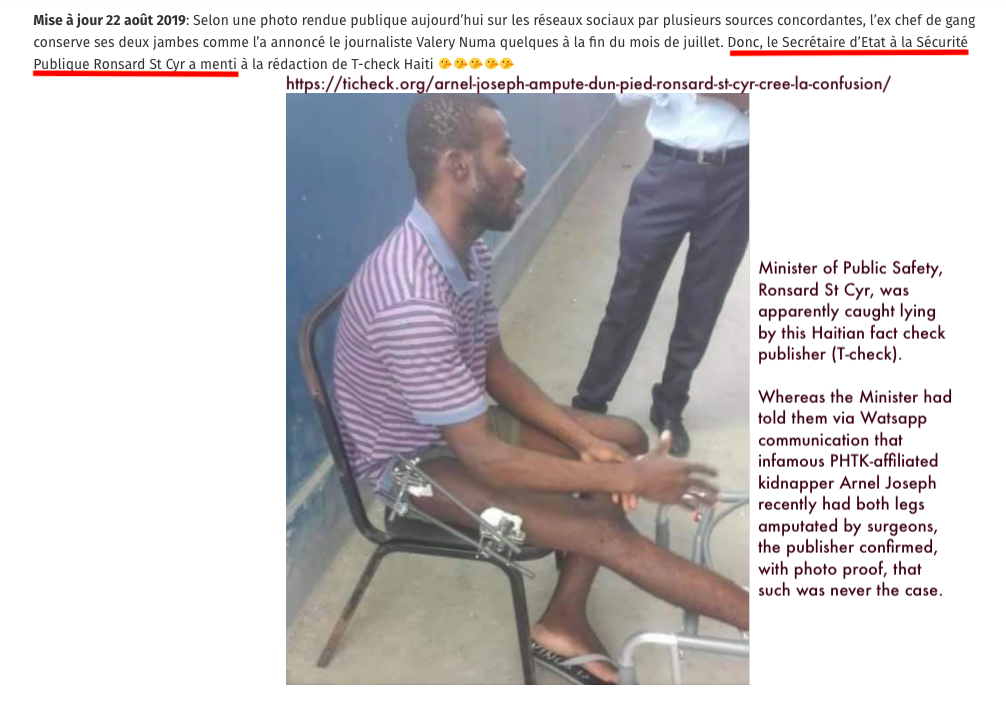 ***
Arnel Joseph parle comme un rossignol
Sur son lit de douleur Arnel Joseph parle et raconte tout aux inspecteurs de la DCPJ s'il veut continuer à bénéficier des soins appropriés. En comparant ses dires avec les éléments trouvés sur son téléphone et celui du numéro 2 du gang arrêté des jours plutôt à Tabarre, les premières conclusions des inspecteurs de la DCPJ est que ce pays est vendu au diable et ses servants. Arnel, simple soldat en 2011, trafiquait déjà avec les dirigeants Tèt Kale et l'honorable Gracia Delva, député à l'époque. Savourez quelques bribes…

Le premier patron politique du gang dont Arnel a hérité c'était Jean Fritz Jean Louis qui depuis 2011, finançait les chefs d'Arnel. Fritz Jean Louis était à cette époque Secrétaire d'État aux Collectivités Territoriales, aux cotés du très puissant ministre Thiery Mayard Paul. Arnel avait fait la prison et Fritz Jean Louis était l'un de ceux qui se battaient pour sa libération. Arnel raconte que même en prison, il recevait de l'argent du MICT.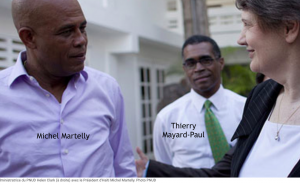 Il souligne aussi c'étaient des hommes à Michael Gédéon, DDO d'alors, qui l'avait arrêté. Des années après, le même scénario se reproduit. Sa montée en puissance entre 2017 et 2018 était due aux empêchements du puissant Tèt Kale, chef de gang décédé maintenant. Il dit que sa libération a été concoctée avec le support de l'un de ses amis, agent BOID qui était dans la sécurité du Ministre Ardouin Zéphirin (2015-2016). C'est de là qu'est parti ses liens privilégiés avec Ardouin et Vladimir Paraison qui étaient respectivement ministre de l'intérieur et commandant de BOID à l'époque qui l'ont fait libérer de taule.

Revenus au pouvoir avec Jovenel Moïse, Ardouin Zéphirin et Vladimir Paraison ont repris contact avec Arnel et sans hésiter il les a suivi. Dès le début, Paraison était clair avec lui : il devait l'aider à accéder à la tête de la Police Nationale en provocant la démission prématurée de Michael Gédéon. Lui qui était un simple bandit est devenu tout de suite l'élément clé d'une mafia avec des ramifications partout. Il avait la DDO avec lui depuis le temps de Soljour, dit-il. Il n'avait pas de problème d'argent, de produits alimentaires, de ciment et de fer. Il pouvait détourner des camions de la BRANA, la Couronne, MEGA, TCHAKO sans être inquiété. Il est devenu tellement puissant qu'il a été capable en peu de temps de recruter les meilleurs soldats dans les gangs rivaux.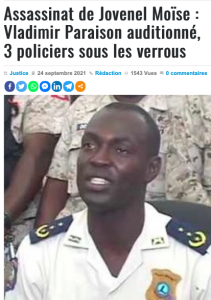 Son numéro 2, il l'a recruté de Grand Ravine.Il dit avoir eu la suspicion d'une imminente trahison d'Ardouin Zéphirin et de Fritz Jean Louis depuis ce jour-là où le gang de Ti Je a reçu des séances de formation de tir par des étrangers armuriers (vietnamiens et colombiens sous les frais de Ti Vlad, garde du corps de Martelly) qui ont montré aux soldats de Ti Je comment faire des armes créoles et comment tirer professionnellement. Il dit avoir eu la suspicion qu'Ardouin préparait un autre gang pour le remplacer. Et à cette même époque, deux de ses meilleurs soldats ont migré vers le gang de Ti Je afin de bénéficier de ces formations car tout membre de gang aspire à être chef de gang. Une connaissance des armes en plus des autres est un atout majeur pour devenir chef.
Sa carrière de bandit allait basculer dans des proportions jamais atteintes, ce soir-là de Mai 2017 après sa rencontre avec Alain Zureik et Esther Antoine, deux conseillers spéciaux du président Jovenel Moïse. Il dit que c'est Ardouin Zéphirin qui l'a mis en contact avec Alain Zureik, propriétaire de Safari Motors (concessionnaire de Jeep et Porshe à la Courbe de Nazon). Zureik, bon ami de Gracia Delva, a recommandé Arnel à Reynold Deeb qui avait besoin de quelqu'un pour contrôler l'environnement de la douane de Port-au-Prince. Il a trouvé Arnel au bon moment. En effet la guerre était déclenchée entre Deeb et Bigio qui lançait les gangs de Chancerelles et bas Delmas.

Avec Arnel, Deeb a changé la donne au bas de la Ville et a remporté la guerre contre Bigio. Depuis lors, il place Arnel parmi ses pions importants. Deeb impose un PM et puis le même jour Arnel est arrêté ! Simple coïncidence ? Quel hasard !

Déclarations choc : il dit qu'à la solde de Deeb et de Zureik, il dirigeait personnellement des opérations de kidnapping de personnes et de marchandises avec deux inspecteurs de Police dont Désir Faveur Gabriel, cet inspecteur arrêté pour avoir communiqué avec lui de façon régulière.Il kidnappait des personnes sous les ordres d'un autre inspecteur dont le nom reste encore confidentiel. Les victimes étaient kidnappées par des bandits de grand chemin, mais l'argent exigé était remis aux organisateurs, ces syro-libanais de l'Haïti Chérie. Arnel dit que ce n'est pas seulement Deeb et Zureik, mais les autres n'étaient pas au devant.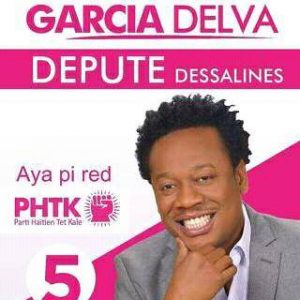 Il raconte n'avoir jamais travaillé avec et pour Gracia Delva, au contraire c'est Gracia qui vivait de lui et il est même allé à dire que Gracia abusait de lui. Il explique qu'après 3 opérations de kidnapping bien conduites pour Allain Zureik et Reynold Deeb, il a reçu USD 25 000 et Gracia Delva a reçu une Porsche Cayenne pour avoir facilité ce deal. La DCPJ et la justice américaine enquêtent effectivement sur ces 3 cas brûlants. Les 3 victimes ont acheté 1 Jeep Grand Cherokee, 1 Porsche Cayenne chez Safari et une BMW X4 chez Appolo Motors, Zureik et Deeb les ont fait kidnapper, ont repris les voitures, et les ont revendues à un puissant réseau de vol de voitures entre Haïti et la République Dominicaine contrôlé par 5 parlementaires haïtiens et 3 sénateurs dominicains et des entrepreneurs des deux cotés. C'est triste !

Il dit que le vol de voitures et de motocyclettes est très rentable et il a cité le nom de Hervé Fourcand et Rony Celestin comme Sénateurs qui sont dans ce business et avec qui il a souvent travaillé. Il dit qu'il ne va jamais révéler ses relations avec Gary Bodeau car ce dernier était correct avec lui et était le premier à s'opposer à ceux qui voulaient le faire éliminer depuis mai 2019. Qu'est-ce qui n'est pas dit ?

Les ONG étaient les cibles privilégiées de ces ravisseurs. Arnel explique que quelqu'un lui a expliqué pourquoi on privilégiait les voitures tout-terrain comme les Toyota, les Nissan Patrol et les Pick Up Amarock, il dit que les concessionnaires de ces tout-terrain gèrent seuls les contrats des ONG. Donc les autres concessionnaires font kidnapper ces voitures pour décourager les ONG à acheter ces voitures tout-terrain chez Hinoto et Nissan que les bandits adulent.

Et dans la communauté des ONG, on a cru dans cette formule. Depuis, les responsables d'ONG concluent qu'il est plus facile de voler une Toyota Land Cruiser au lieu d'une Jeep Grand Cherokee ou une BMW, par conséquent ils achètent les voitures qu'on vole le moins.

Il dit avoir commencé à faire vraiment de la politique à partir de la nuit du 5 octobre 2018, lorsque le président Jovenel Moïse l'a félicité pour son courage après qu'il ait répondu à Michael Gédéon qui avait mis 2 millions sur sa tête. Il a reçu un appel de Ardouin Zéphirin lui prévenant d'un coup de fil important. Vers les 6 heures, il a décroché l'appel d'un sénateur et c'était le président Jovenel Moïse à l'autre bout de l'appareil. Le président lui a dit que c'était Gédéon le vrai bandit. Le président lui a donné son support ce soir-là dans ce tacle au tacle contre Gédéon.

Autre fait marquant pour lui, c'est en Février 2019, il a reçu un appel de Ti Vlad qui lui a passé Michel Martelly. Ce dernier lui a dit « : Kòmandan Nel mwen konte sou ou pou ou voye je sou kay mwen yo pour mwen ke bann Lavalas kaka yo vle boule».

Martelly est parti et a laissé une somme d'argent pour Arnel et des munitions. Arnel dit avoir envoyé des soldats surveiller les maisons de Martelly tant à Péguy Ville qu'à Saint Marc.

Arnel raconte être en possession de munitions de bonne qualités venues de Vietnam pour tenir 8 jours sans relâche contre la Police et ces munitions viennent de Ti Vlad. Plus rien à dire !À suivre…

La prochaine séance d'interrogation c'est pour mardi prochain. Cette séance se portait sur les cas de kidnapping, la prochaine risque d'enflammer la République. Restez focus ! Conversations privées avec un proche d'un « à qui de droit » récipiendaire du rapport #1. Un citoyen.

Source: Le messie noir (Facebook), 27 juillet 2019