Warning: might include expressions of gratefulness and praise for the Canadian Science and Technology System.
---
In a few days, I will begin official retirement from the Canadian Public Service, following three decades working primarily at the Natural Sciences and Engineering Research Council (NSERC), the federal granting agency that supports discoveries and innovation in Canadian universities, colleges and partner institutions.
My journey into the world of scientific research was facilitated by a number of remarkable individuals to whom I hereby express my most sincere thanks. On the front line, I bow to Manmi Anne, my "first teacher of everything", who taught me how to read and write while seated on her lap in our "ti boutik" (home mini-store) in Port-au-Prince, Haiti; to elder brother Guy and his wife Marie-Edith who graciously guided me through a Canadian migration adventure and welcomed a teenager into their house; to Mr. Roger Jean-François at Champlain High School in Ottawa who found the right convincing words to express that science was definitely a thing for me; to Janet Walden, my first boss, interviewer and mentor at NSERC; to Martha Crago, Vice-Principal, Research and Innovation at McGill University whose Leadership Team I joined over the past 4 years; to my spouse, son and daughter, friends and colleagues within the Canadian S&T System as well as international collaborators…whose wise and timely counsels I received over the years. Mèsi anpil!
I hope the following lines will provide a useful glimpse at why my journey within the Canadian Public Service deemed worthwhile, enjoyable and rewarding to me, might also be inspiring to others, despite the challenges encountered, because of the lessons learned, the goals accomplished, the people met and the experiences lived.
Perhaps you are a young undergrad currently collecting letters of soft rejection like the ever growing pile of brown envelopes I once kept with me. You know the drill…"Mr. Saint-Vil, you have an impressive CV, however, we regret…".
In 1992, just about to give up on Canada while praying and hoping for an elusive internship in Lesotho, Southern Africa, with World University Services of Canada (WUSC), while fighting a mild fever and cold, I sat and wrote a 3 hour long exam at 200 Kent Street, in Ottawa. I was not at all confident walking out of that examination room where, in sweat, I answered philosophical questions about the importance of university research for society. To my pleasant surprise, a few days later, I was invited to pass an interview for a Program Officer position at NSERC. To make a long story short, it so happens that I had just landed my dream job at the most unexpected time – yep, as Forrest Gump would say: "just like that!".
NSERC Program Officers coordinate peer review of research projects submitted for funding by the country's top scientists and engineers. Over the course of three decades, I got the opportunity to work with some of the most brilliant minds in the Canadian academic, public and private sectors as well as their global partners. Among 132 economies featured in the most recent Global Innovation Index (GII 2022), Canada ranks 15th. Therefore, I occupied an excellent seat in our Stadium of Geniuses, witnessing the power of public-funded world-class research and innovation. That said, while various reports document how Canada performs consistently well in science and technology, the Canadian S&T system has yet to perform optimally. Thus, the logical and tenacious search for improvements, particularly in terms of innovation outputs. Detailed expert analysis of Canadian S&T performance can be accessed here.
In addition to exciting discoveries and innovations granting agencies such as NSERC fund, I remain most impressed by the robust voluntary Peer Review System on which it all relies. In Canada, academics who dedicate time either as external reviewers or as peer review committee members, offering expert assessments on research proposals submitted for funding to the federal granting agencies by fellow Canadian academics, are not remunerated for the service offered. This essential contribution is repaid to them indirectly, as their own applications for funding are also peer reviewed free of charge. Obviously, in order to function well, such a system requires robust policies and procedures that help manage various risks such as plagiarism, IP theft, conflicts of interest, of commitment etc…the core expertise of granting agency staff and executives.
Over the course of my career, I have seen how the Canadian Peer Review System works wonderfully to allocate grants of various size, duration and complexity, from modest individual scholarships to multi-million dollar research and innovation awards which are allocated to national networks of researchers. These robust systems which were developed over several decades benefit also from regular mandatory evaluations which bring about key improvements over the years. For the purpose of this brief post, I offer Canadian decision makers three personal observations/ opinions as food for thought – which I deem worthy of consideration during upcoming evaluations of federal funding programs.
---
Keep Trusting and Funding Top Notch Canadian Research and Innovation
Beware, however, that positive features of the Canadian S&T System sometimes receive high praises abroad while being neglected or undervalued at home. Take for instance, how sizeable grants are allocated to networks of researchers. Around 2018, a time when Canadian officials were busy analyzing various foreign systems and models for potential emulation or adaptation to improve our own, international partners/competitors were praising a time-tested, made-in-Canada model: the Networks of Centres of Excellence (NCE) which was set for abandonment by senior bureaucrats. An initiative established since 1989, although adapted for improvement through regular evaluations, likely required timely enhancements. However, the decision to completely shut down the 30 year strong NCE Program took many by surprise because decision makers were unable to point to a body of scientific studies or evidence which informed such drastic decision. Moreover, fundamental premises on which the NCE Program was established remained evident to most folks who were familiar with its many successes.
Canada, with a modest size population, its institutions of higher learning being spread over a huge territory, needs obviously to foster powerful centres of research excellence in strategic areas. Then, by helping these centres of excellence network among themselves and with the world's best in kind, the country will ensure it optimizes and scales up their overall impact. Thankfully, some excellent features of the NCE Program can be found in the New Frontiers of Research Fund (NFRF) awards, whose ultimate impact shall be known over coming decades. It is also encouraging that some of our excellent networks and centres which started under the NCE Program have successfully secured bridge funding via other federal programs such as the Strategic Innovation Fund with, hopefully, minimal loss of key highly qualified personnel who might have left during this period of uncertainty.
Of course, I acknowledge upfront an evident personal conflict with the subject given that I served as NSERC Associate Vice-President, in charge of the tri-Agency NCE Secretariat while the program shutdown was in motion. However, much water has since passed under that bridge. In essence, I posit that beneficial outcomes are more likely when major changes to the S&T System are informed by evidence which was gathered through scientific studies and /or independent evaluations. It remains that building powerful networks of Canadian discoverers and innovators, linked to best in kind around the world, is a Canadian success story worth amplifying and renewing over and over.
---
The Canadian S&T System Must Continue to Nurture Three-Legged People
The Canadian S&T System would reap optimal benefits by creating and promoting more "three-legged people" who spend part of their professional careers in each of the three major sectors (academia, public and private). A few years after I joined NSERC, a new President arrived at the helm, Dr. Thomas Brzustowski (1995-2005). He came from my alma mater, the University of Waterloo. I had not been his student. Rather, it was while working under his leadership at NSERC that I got introduced to what the late Dr. Brzustowski dubbed "three-legged people". The concept is developed in a small but mighty book titled: The Way Ahead: Meeting Canada's Productivity Challenge, published in 2008. At the time, I was Senior Program Manager, charged with implementing the new Centres of Excellence for Research and Commercialization (CECR) and the Business-led Networks of Centres of Excellence (BL-NCE). Serving as ex-officio, non-voting member on these networks and centres Board of Directors, I was a privileged witness to added benefits reaped when representatives of all three sectors guide such major research & innovation initiatives. Indeed, it might be less comfortable to stand on 2 rather than 3 legs. Whereas, I spent a couple of student work terms in the private sector, I really only qualify to stand among two-legged persons. I am most grateful to have earned my second leg, working over the last 4 years of my Canadian Civil Servant career within the academic sector. This was made possible thanks to a procedure known as "interchange"; whereby, while remaining a Federal Government employee attached to NSERC, I worked with McGill University which simply repaid NSERC my salary. Interchanges, which can go in all directions (Public to Private, Academia to Public and vice versa), is one excellent mechanism upon which decision makers could effectively rely to build Dr. Brzustowski's proverbial "three-legged people", at scale, as Canada faces increasingly complex challenges in the 21st century.
---
Do Science Not War!
It is my overall perception that the Canadian S&T System constitutes a huge national asset whose power remains generally under-recognized and under-utilized, for instance, in the realm of science diplomacy.
As I type this note, after those of Niger, Burkina Faso and Mali, a fresh military coup in Gabon, West Africa, awakes French elites to a foreseeable paradigm shift: foreign military presence on the continent will no longer sustain the fleecing of African mineral resources by European and North-American powers and their multinational corporations who, for decades, acted in cahoots with corrupt, ill-elected, foreign-imposed despots who rule over the impoverished populations of Africa. A drastically new and intelligent paradigm must be found to establish fair and normal relations between the rightful owners of vast resources in Africa (the richest continent on Planet Earth), on one end and, on the other, the heirs of Napoleon, Elizabeth I, Thomas Jefferson and King Leopold.
Anticipating such inevitable developments, back in 2018, during our return flight from a Science Diplomacy Conference (S4D4C) held in Madrid, I wrote to the Chief Science Advisor of Canada, Dr. Mona Nemer, who spoke at that conference:
"Canada should strengthen its use of science diplomacy to advance key interests in the world (access markets, nurture reputation, build strategic alliance) while building the "Canada" brand…The example that Dr. Peter Gluckman offered of New-Zealand making a successful targeted pitch to African nations truly resonated as I pondered where and how Canada could make optimal use of science diplomacy in the 21st century.
I have often advocated in favour of deploying Canadian scientists and engineers where we now mostly deploy Canadian police and military forces. Take, for instance, my native Haiti where important Canadian mining interests are actively vying the exploitation of large gold mines. What if legitimate concerns raised by Haitian and other environmentally-concerned citizens and organizations were to be squarely addressed, notably by an active bilateral scientific collaboration which ensures the following:
Haiti develops and maintains the required human and technical capacity to apply proper environmental protection protocols during the exploitation of its mineral resources.
Canadian and Haitian companies and scientific experts operate in a welcoming, conflict-free environment where they bring tangible socio-economic benefits to both Canada and Haiti.
Canada establishes a trailblazing precedent, a radical change, whereby the pursuit of science, sustainable development and rational goodwill – rather than military repression – help achieve optimal security for both mining operations and the population of an underdeveloped country. Imagine replicating a successful pilot in Latin America, Africa etc…
Thus far, it is fair to say, Canada has invested rather modestly in establishing a strong world presence, through strategic mobilization of its "brain power". My humble view is that we can and must do more in this realm. Through targeted science diplomacy initiatives such as those I mentioned above, we could radically improve the reputation and socio-economic benefits Canada derives from what we currently invest in both diplomacy and science".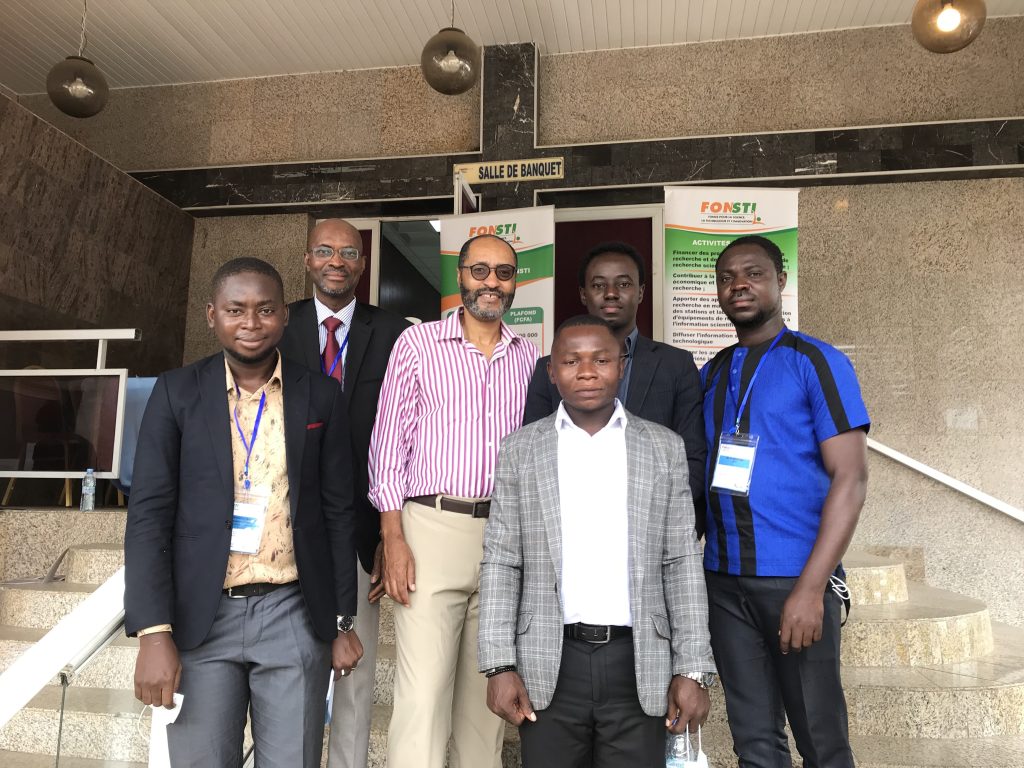 I enter this phase of retirement from the Canadian Public Service, following the interchange from NSERC to McGill, with a powerful reminder that time is the most precious of all resources, as it is 100% non-renewable. Recently, I witnessed the passing of dear friends and mentors. I also count myself extremely fortunate to have my, now 94 year wise, first teacher of everything living with us. Among many important lessons she taught me recently, I must consider myself ever fortunate to spend time and energy on projects/ initiatives which yield significant positive social impact, over the coming decades. I have no idea where or how I will ultimately connect to such projects… So, please, do not hesitate to drop me a quick note should such opportunities come across your own paths.
I promised myself to keep this post brief and focused. So, please allow me this free advertisement in closing: Let it be known that, henceforth, Jean Elissaint Saint-Vil, aka Jafrikayiti, former Canadian Public Servant, is now positively interested in select invitations to:
Serve on Board of Directors of various organizations, with particular interest in Research & Innovation Policy, Global Peace & Social Justice, Decolonized History.
Conduct peer reviews of complex multidisciplinary, national and international collaborative research proposals, assessment of national/regional granting agency programs, institutions (I am open to short-term contracts in Canada and overseas).
Take calls for free advice from young & no-longer-so-young folks who are navigating their way through the Canadian Public Service, academic careers etc…
Oh, yeah! I am actively working on improving my rudimentary Swahili and Spanish. Therefore, contracts in Africa and South-America are particularly welcome!
Ase!
---
Please send comments, suggestions, questions to: jeanelissaintsaintvil@gmail.com