White greed, envy and deceitfulness portrayed in fictional Wakanda pale to very real and extreme white wickedness at play in 2022 Haiti.
Much like the original 2018 film, last month's release of Black Panther II – Wakanda Forever left no one indifferent. The huge box office success is universally praised for its excellent cinematography and acting. Most critics offered extra praises for the sequel's celebration of Chadwick Boseman, the young Black Panther star who passed away on August 28, 2020, at age 44.
Typical criticism of BPII fall along the same lines as those that were levied against the original film. The list of faults include, among others: problematic political messages about what constitutes appropriate African heroism, victims of European imperialist aggressions shown fighting each other rather than collaborating against the common oppressor and relatively sympathetic portrayal of a CIA operative dubbed "my favorite colonizer" by Princess Shuri. In Wakanda Must Fall, published on Black Agenda Report, author Jared Ball holds no punches: "This White, Western, pan-European fantasy film where all of its colonial subjects fight each other to see who will be safe from them is a political mess… just to be clear, I hate Wakanda Forever".
By contrast, author Marlène Daut bestows highest praises to BPII in We Love How 'Black Panther: Wakanda Forever' Honors Haiti
"The life and legacy of Christophe's comrade-in-arms, the famous revolutionary hero Toussaint Louverture who helped end slavery on the French-claimed island of Saint-Domingue (present-day Haiti), surges forth when T'Challa's son tells his father's sister, Shuri, who has recently arrived in Cap, that his "Haitian name" is Toussaint".
Commentators like Rosslin Mozart Louis, a BPII cameraman of Haitian origin, expressed much pride and joy for the way the film producers offered reverent nods to Haiti and its abolitionist revolution. That said, it should be noted that critics of the film exist also within the Haitian sphere. Gumais Jean-Jacques, for instance, insists that BPII committed an unforgivable sin by overlooking Jean-Jacques Dessalines, the true liberator and founder of Haiti. According to Gumais "no film or literary work, much less a posthumous hommage worthy of historical veracity, may immortalize the greatness of Black Civilization with its heroic prouesses, without bringing back to life Jacques 1er (Dessalines), the Emperor of Haiti".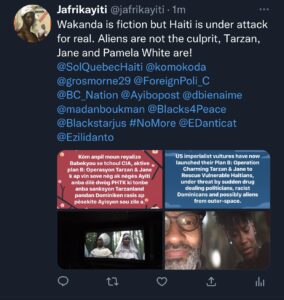 Hollywood would likely depict Haiti's Dessalines as Wakanda's Killmonger, not its noble King T'Challa. Indeed, in Pan-African revolutionary circles, it has long been understood how and why suspect praises of our brother Martin Luther King Jr. are often offered to the detriment of our brother Malcom X; Just as beloved Rolihlahla Nelson Mandela has sometimes been glorified in order to better diminish our equally-beloved Winnie Madikizela Mandela, Madiba's warrior wife, Mother of post-Apartheid Azania. So, indeed, many among us consider BPII's nod to Toussaint Louverture and Haiti to be nice but not necessarily innocent. In this regard, it can be perceived as another instance when modern-day Africans deliberately cater to white fragility by suppressing memory of and reverence for uncompromising African liberation and liberators.

Toussaint Louverture, while a rightfully-celebrated general and statesman who did much important foundational work for the successful abolitionist Haitian Revolution had, in fact, been kidnapped, deported and killed by Napoleon Bonaparte, months before the eventual liberation of Haiti from white supremacist rule. This major accomplishment was that of the Great General Jean-Jacques Dessalines. The latter, effectively chased the last European colonizers off the island, established a newly liberated state baptized "Haiti" on January 1, 1804. It was not Toussaint who drafted Haiti's Constitution promulgated on May 20, 1805 but Dessalines the Liberator, who served as Emperor up to his brutal assassination on October 17, 1806. Surely, outside of Haitian culture, Dessalines is lesser-known than Toussaint Louverture. This is no coincidence. Much like Malcom X and Winnie Madikizela Mandela, Jean-Jacques Dessalines is known to have shown no particular love or respect for white supremacist colonizers. And, generally, white scholars and creative content producers influenced by them have responded in kind.
I empathize with both praises and critics of BPII. In my view, both sides raise important points that are valid but, nonetheless, debatable. If I share many concerns raised by critics of BPII and even have additional ones linked to its nods to Haiti, none of these, however, would lead me to desire the "fall of Wakanda". Something very real must, indeed, fall. I only wish it were merely a work of fiction.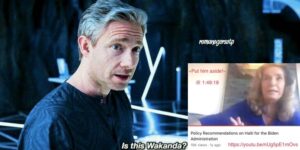 In part II, I will introduce a few real nefarious characters, among them: former US Ambassadors to Haiti James B. Foley and Pamela White. The latter openly and insistently advocates for heavily-armed foreign mercenaries to invade Haiti. Unlike Princess Shuri's fictional "favorite colonizer", Pamela White's imperialist pronouncements must not be ignored by anyone who genuinely cares about global peace and justice. White's "recommendations" have been known to turn deadly reality within months, when not weeks or days.
At a US House Foreign Affairs Committee hearing titled "Policy recommendations on Haiti for the Biden Administration" held March 12, 2021, Pamela White recommended that the US retires Jovenel Moïse, its most recent fraudulently-installed puppet "president" in Haiti. "Put him aside!" she said. Low and behold, on July 7, 2021, Jovenel Moïse was taken down by DEA agents and mercenaries. Then, as also recommended by Mrs. White, Ariel Henry, a colonial "prime minister in waiting" was put in "charge" of Haiti by the foreign overseers (Core Group) who effectively rule Haiti since 2004, comfortably and cowardly hidden behind black-face puppets. Peculiar imperial "diplomats" behaving as Tarzan and Jane in our strange but real world do not concern or embarrass themselves with niceties such as legality, Haitian or international law. Forget also about basic decency or morality!
Were Queen Ramonda to walk into the real United Nations General Assembly as current-day white imperialists discuss their stubborn plan to "invade and fix Haiti – once again", under any pretext imaginable, we would have watched our eloquent Daughter of Lumumba say with dignified power and conviction: "we know why you desperately want to invade our Haiti. You wish to protect 15 white mafia families (see White Warlords are Haiti's Real Curse) and their black criminal allies who work under your protection, denying Haitians their hard-earned sovereignty and access to huge natural riches available on their island. We fear not the potential harm of so-called gangs, but the very real, time-tested deadly potential of you (makers and armers of gangs) – you!"
***
Wakanda Haiti: the case against Tarzan Jane and Jesus (part 2…coming soon)