A retrospective look at what some faithfuls have said for the record about their deeply held "beliefs" on twice exiled Haitian President Jean-Bertrand Aristide and the apocalyptic dangers of his second coming (18 March, 2011).
1) A DEVOTED DIPLOMAT SHARES HIS PRECIOUS & DEEP HOPES
Claude Boucher, Canada's Ambassador to Haiti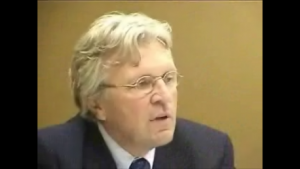 , told the Inter-Parliamentary Forum of the Americas on Dec. 9, 2004: "We hope that Aristide is going to disappear… I believe that he should never come back. […]We HOPE [an enquiry into alleged corruption by the Aristide government] will show Aristide is guilty of so many criminal actions." (Embassy Mag, December 15, 2004).
***
2) WARNING FROM ONE WHO POSSESSES SPECIAL POWERS TO SEE ACROSS THE SEAS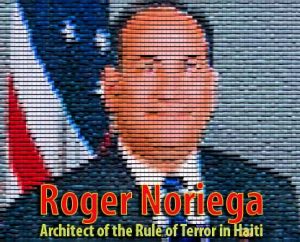 'We believe that his people are receiving instructions directly from his voice and indirectly through his acolytes that communicate with him personally in South Africa," said Roger Noriega, assistant secretary of state for the Western Hemisphere. Miami Herald, June 2005
3) THE CRUCIAL VALUE OF STRONG STRONG rumours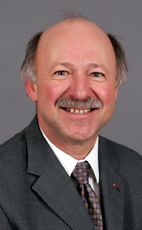 In September 2004, Vancouver-based journalist Anthony Fenton questioned former Liberal Minister for La Francophonie, Denis Paradis, about the justification for Canada's participation in the 2004 coup in Haiti, Mr. Paradis is quoted as follows: "What I'm saying is that there were strong, strong rumours that Aristide had diverted a lot of millions of dollars outside the country, and I think it's a crime to do that in a country poor like Haiti".
Take home lesson: it's ok for it to be mere rumour, as long as it is doubly strong, nest-ce pas M. Paradis!?
4) DON'T BELIEVE YOUR OWN EYES, TRUST WHAT THE MULET TELLS YOU – Blan an di ou mouri!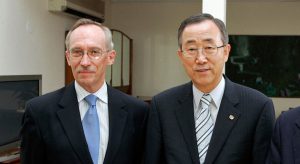 "[Demonstrations demanding the return of president Aristide] became 3,000 and the last ones maybe 75…50 people. So I see that this issue of former President Aristide is not present anymore in the political sphere in Haiti anymore, and his movement – familia Lavalas – is very much divided, weakened." UN Special Representative Edmond Mulet made his comments during a roundtable forum sponsored by the Center for Strategic and International Studies (CSIS) this past January 31 (2007) in Washington D.C.
5) THE MODERN-DAY MISSIONARIES PREDICT THE FUTURE & TELL US: "BEWARE THE GILDED AFRICAN!"
In "Why Aristide Shouldn't Be Allowed Into Haiti" By Tim Padgett, Time Magazine, Friday, Jan. 21, 2011
"here's the most likely scenario: After touching down in Port-au-Prince, he'd be met by an adoring throng shouting "Titid!" and paraded through the streets in messianic fashion before declaring his desire to be President of Haiti again, because that's obviously what the people want…But right now, like Baby Doc, Titid would just be another troublesome piece of rubble the country needs to shovel away before it can rebuild itself".
BTW: Guess who has been busy tweeting in the Canadian Parliament about the return of Aristide?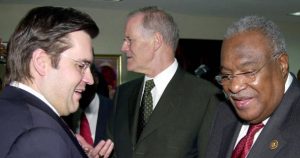 Indeed, Denis Coderre, Pierre Pettigrew's buddy, who often attempts to deride pro-democracy, anti-coup demonstrators as a small group of "Aristidians" (see "l'impunite de l'homme blanc en Haiti" par Emmanuel Dupont. Then, go see for yourself what Coderre has to say: Ooops! – it has been deleted!
There is a French saying "Le ciel nous est tombé sur la tête" (the sky fell over our heads)…this is the least that was expected to happen as the stubborn South-Africans returned the omnipotent little priest with supernatural powers enabling him to manipulate large crowds (of fifty or less) by remote control across the oceans…
You bad Titid! Your return has been a huge disappointment. First, there was only a "small but enthusiastic" crowd to greet you – which reminds me of a similar description for the million strong among whom I stood January 1, 2004. But, what's more, Mulet's 50 persons have not caused any apocalypse…
Non sèlman mwen jete m, mwen rejete!
Jafrikayiti
"Depi nan Ginen bon Nèg ap ede Nèg!"
(Brotherhood is as Ancient as Motherland Africa)
The above text, originally published on the Corbett Haiti List, March 22, 2011, is republished on this 18 March 2018 to congratulate nearly two thousand young Haitian engineers, doctors, nurses, technicians (women and men) who are in attendance while 138 of their peers receive their University diplomas on this day at the Université Fondation Aristide (UNIFA). The same institution of higher learning that barbaric foreign troops occupied during the 7 years of Dr. Aristide's forced exile in Africa.
When Mr. and Mrs. Aristide announced their decision to return home to contribute to strengthen the education system in Haiti, the imperialists and their stooges were very loud naysayers. In less than 7 years, the people of Haiti and their champion have, once again, confounded the diplomatic skinheads and the hypocrites!
I visited the UNIFA Campus in August 2017, here is a brief tour with Mrs. Mildred T. Aristide (in Kreyòl).


Amandla! Ayibobo!