This is the fourth cd in the series Lafimen: Listwa Pèp Ayisyen depi nan Ginen (History of the Africans of Haiti)
(Jan. 1, 1804 to Okt. 17, 1806)
Katriyèm CD sa a louvri ak "Tèt blan cho", yon koudèy sou deklarasyon endepandans Ayiti, ki jan sa te pase sou zile a, nan rejyon an epi onivo entènasyonal.
The opening piece "Tèt blan cho" sets the rise of Dessalines and Haiti's declaration of independence in regional and international context.
Ak "Ayiti Toma", otè a voye je gade plizyè teyori ki makònen ak ni zile a, ni kontinan Lafrik.
With the 2nd piece titled "Ayiti Toma", Jafrikayiti provides some fascinating insight on the naming of Ayiti (Hayti), a unique nation established by displaced Africans in the Americas.
Nan "Vwa Zansèt yo", granmesi yon dokiman ekstraòdinè ki ekziste nan Smithsonian Institution, Jafrikayiti pèmèt nou tande vwa reyèl plizyè grandèt ki te esklavaj nan peyi Etazini.
The  pedagogical focus of this 4th cd is highlighted throughout its 23 pieces. Spreading the word about the existence of actual voice recordings of African women and men who were once enslaved in the United States of America, "Vwa Zansèt yo"  is a piece to treasure.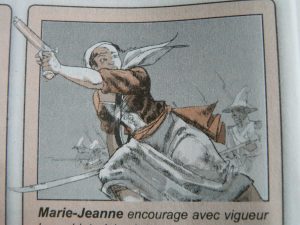 "Kolon blan rekòlte…", "Randevou 8 oktòb", "Dessalines mete blan Angle nan wòl yo" and "Blan Franse menase Ayiti" are guaranteed to give you chills as Jafrikayiti narrates the events that marked the first year of existence of the Black Republic, within an ocean of slave-holding, white supremacist military powers.
Nan "Opa Karabinye" nou fè konesans ak nègès larèn chantrès Euphemie Daguilh ki te akonpanye mizisyen ki envante dans «Karabinye» sou chan batay, pandan lame liberasyon Anperè Jean-Jacques Dessalines te sou chimen Santo Domingo.
"Opa Karabinye!" highlights the role music and entertainment played in the Haitian Revolution. We learn about Euphémie Daguilh, a famous songstress who accompanied Dessalines and his troops on the battleground where Le Carrabinier, a new musical genre, was born.
"Konstitisyon 1805" pèmèt nou founi je gade gran prensip yo ki te sèvi fondasyon pou Ayiti. Se yon dokiman enpòtan, tout Ayisyen ta merite etidye epi itilize kòm sous enspirasyon. Katriyèm CD sa a chaje ak enfòmasyon. Poutan, lè ou fin tande 2 dènye pyès dramatik  yo: "Konplotay kont lanperè" ak "Graslamizèrikòd! Yo touye Lanperè", se atò ou ta kontinye koute Jafrikayiti.  
"Konstitisyon 1805" is an important study for anyone interested to understand the vision of Haiti's founders. Despite the wealth of information it provides and the captivating stories it recounts, like the rule of Dessalines itself, you will find this cd to be too short-lived.  It closes with two dramatic pieces "Konplotay kont lanperè" and "Graslamizèrikòd! Yo touye Lanperè".
Track List
LAFIMEN CD#4 "Dessalines Mande Règleman" (Dessalines demands justice), produced in 2010, it comprises the following tracks:
1. Tèt blan cho (4'29)
(Panic among whites)
2. Ayiti Toma (4'55)
(The naming of Haiti)
3.  Devinet 1 – Hayti, USA (56)
(Quiz 1 -Hayti, USA)
4. Vwa Zanset yo (447)
(Our Ancestors' Recorded Voices)
5. Pwoklamasyon 14 janvye 1804 ('39)
(The Proclamation of January 14, 1804)
6. Devinet 2 – Jeronimo ('36)
(Quiz 2 – Maria do Carmo Geronimo)
7. Kolon blan rekolte (5'37)
(whites reap what the sow)
8. Randevou 8 oktob (4'59)
(October 8th Rendez-vous)
9. Dessalines mete blan angle nan wol yo (3'42)
(Dessalines sets the record straight with the British )
10. Devinet 3 – The Jesus of Lubeck ('48)
(Quiz 3 – The Jesus of Lubeck)
11. Jacques 1er (5'03)
(Emperor Jacques 1)
12. Devinèt 4 Pinga ou Prese ('43)
(Quiz 4 "hurry not…")
13. 1 janvye 1805 (3'17)
(January , 1805 celebrations)
16. Devan Pòt Santo Domingo (4'52)
(At the Gate of Santo Domingo)
17. Opa Karabinye (5'47)
(Inventing the Carabinnier, on the battle front)
18. Dessalines deside abandone Santo Domingo (3'18)
(Dessalines abandons the siege of Santo Domingo)
19. Konstitisyon 1805 (5,14)
(The 1805 constitution)
20. Devinèt 6 Villet chape ('54)
(Quiz 6 – Villet escaped death because…)
21. Konplotay kont Lanperè (6'00)
(The Plot against Dessalines)
22. Graslamizèrikòd yo touye Lanperè (5'49)
(They murdered Dessalines!)
23. Depi nan Ginen bon Nèg ap ede Nèg! ('56)
(Brotherhood is as ancient as mother Africa)