This is the second cd in the series Lafimen: Listwa Pèp Ayisyen depi nan Ginen (History of the Africans of Haiti)
***
Nan CD#2 ak #3, se Revolisyon Ayisyen an ki layite an gran jan nètalkole, depi sou premye gwo leve kanpe Nèg Mawon yo, gouvènans yon jeni militè ki te rele Toussaint Louverture, jan li finalman fè bèk atè, jan konba a rapousuiv jouk rive nan dènye kou ki touye koukou a – viktwa final Lame Afriken revòlte yo sou ekpedisyon esklavajis Napoléon Banaparte lan (Batay Vètyè) epi pwoklamasyon endepandans Ayiti, 1 janvye 1804 sou lobidyans fondatè Jean-Jacques Dessalines.

***
The opening piece "Makandal sove" recounts the exploits of the legendary François Makandal, a one-arm African maroon leader who organized some of the most successful attacks against the French, on the island of Ayiti, during the late 1750s.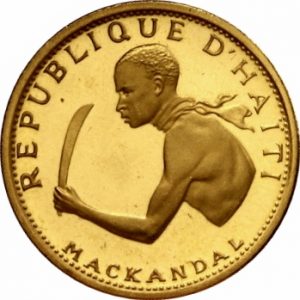 Riding Maten, his adventurous donkey, Jafrikayiti guides us through the woods to witness the famous "Bwa Kay Iman" ceremony of August 14-15, 1791. As you listen on, if you experience  goose bumps, remember the professionally-mastered sound-effects only support the retelling of a true story; one of examplary courage, deep spirituality and absolute heroism.
The 5th piece "Sonthonax ofri libète Sentaniz" puts in context the first emancipation proclamation issued by the French in August 1794, attempting to lure the kidnapped Africans into quiet submission.
"Toussaint Louverture, konsa l rele!" , "Toussaint nan tout sòs", "Toussaint mouye Sonthonax", and "Tout blan fè bèk atè!", put the spotlight on the military brilliance of the heir of the Kingdom of Allada's Gaou Ginou, the Great François Dominique Toussaint Louverture.
The CD closes with "Sa k ap fèt?", a rap performance by KOB Records artist Heru Lutalo. It also features Jafrikayiti who delivers a special message to Haitians of all generations.
Track List
LAFIMEN CD#2 "Lanbi Libète" (Freedom conch), produced in 2006, comprises the following tracks:
1. Makandal Sove
(8'18)
(Makandal escaped)
2. Bwa Kay Iman
(3'34)
(The Bwa Kay Iman Ceremony)
3. Bri Kouri Boukmann
Mouri (2'26)
(Rumor has it Boukman is dead)
4. Sonthonax ap Simen Grenn Divizyon
(5'36)
(Sonthonax sows discord)
5. Sonthonax Ofri Nèg Libète Sentaniz
(4')
(Sonthonax offers fake freedom.)
6. Toussaint Louverture, konsa l rele (4'40)
(His name isToussaint Louverture)
7. Toussaint nan tout sòs (6'46)
(Toussaint is restless)
8. Toussaint mouye Sonthonax
(7'10)
(Toussaint tricks Sonthonax)
9. Tout blan fè bèk atè (6'48)
(The whites give up)
10. Sa k ap fèt ? (2'05)
(What's going on?) (Kreyòl hip-hop)
11. Depi nan Ginen bon Nèg ap ede Nèg (1'06)
(brotherhood as ancient as mother Africa)