Message to Mr. Stevie Wonder (Artist, Humanitarian)
Dear Stevie Wonder,  I regret to inform you that your good name has been associated with a criminal organization which you served as Goodwill Ambassador: the United Nations.
Mr. Stevie Wonder, we regret having to bring the following factual, verifiable and highly disturbing information to your attention:
RAPE
In July 2011, four employees of the United Nations forcibly sodomized Johnny Jean, an 18 year old boy in Southern Haiti. The criminals produced a trophy video of the crime, which became public soon afterwards, as discussed on ABC News.
References:
1. U.N. Peacekeepers Accused of Sexually Assaulting Haitian Teen
http://abcnews.go.com/m/story?id=14437122&sid=3029941
2. The Video Evidence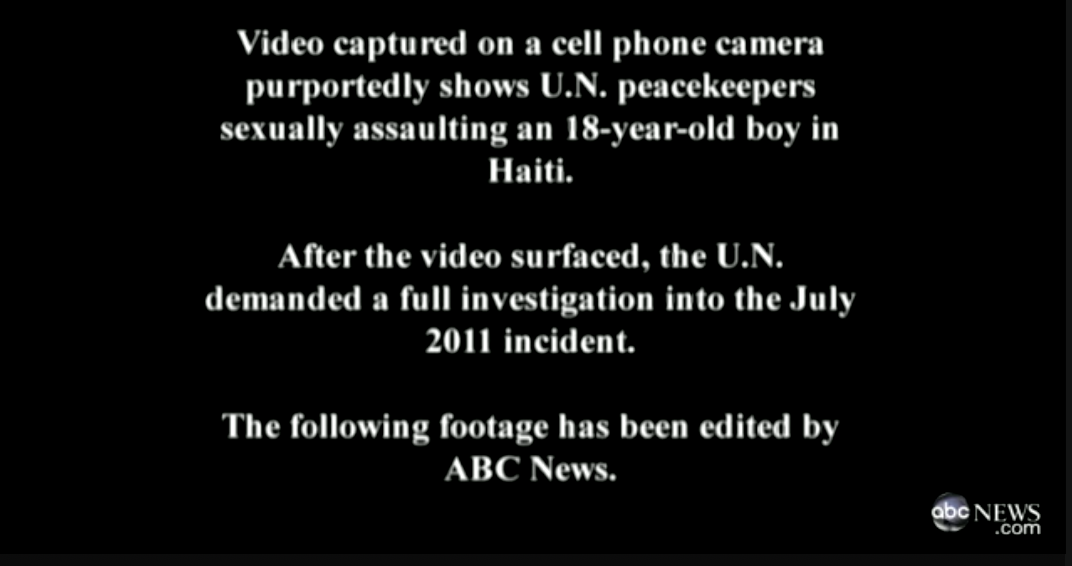 CRIMINAL ACTION CAUSING MASSIVE DEATHS
In October 2010, illegally deployed U.N. soldiers brought a deadly cholera bacterium to the island of Haiti, resulting in the death of over 30,000 people, and the infection of a million others. The surviving victims have yet to be provided access to potable water, medication and adequate assistance to help them heal. Despite several scientific studies confirming that the criminal action (or negligence) which led to this tragedy is that of the UN, this organization has not –  so much as – apologized to the Haitian people. Reparations have yet to be paid to the families of the dead or infected.
References:
Whole-Genome Study Nails Haiti-Nepal Cholera Link by Martin Enserink on 23 August 2011
MASS MURDERS
Since the arrival of U.N. troops in Haiti, there have been numerous massacres attributed to them.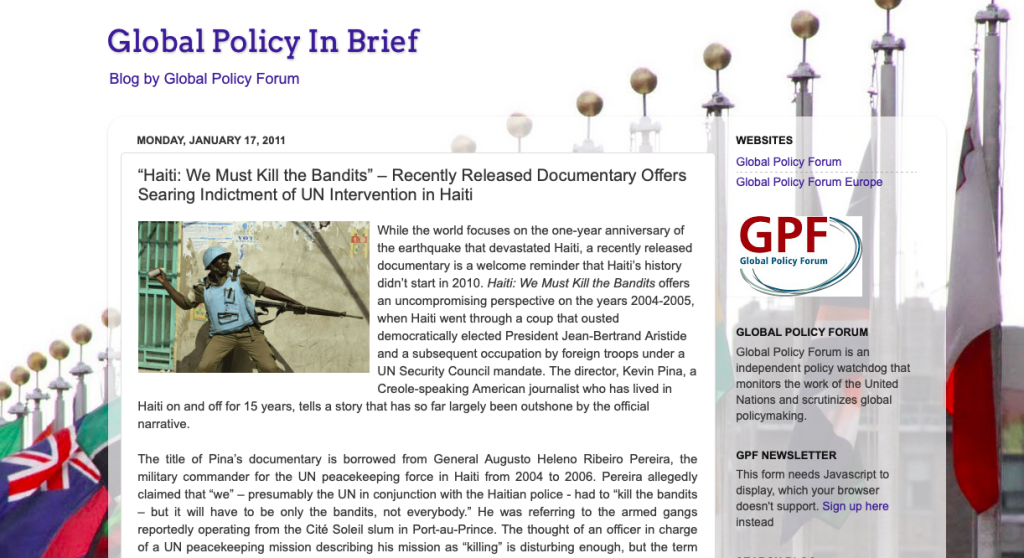 High ranked leaders of these troops complained publicly about being tasked to conduct crimes against humanity which they fear could take them to the International Criminal Court.
In January 2006, U.N. General Bacellar was found on the balcony of a Petion-Ville Hotel, with a bullet in his head. The true cause of his death remains unclear, although the U.N. has officially declared the death of the veteran General, found with a book in his hand, a suicide.
References:
1. WE MUST KILL THE BANDITS, by Kevin Pina
2. Heleno knew something his successor found out too late
Mr. Wonder, I write to you because I know and admire your decades-long involvement in the global struggle for peace and justice. I am convinced that you were unaware of these disturbing facts about the U.N. forces in Haiti. Now that you do, I count on you to help justice prevail.
Sincerely,
Jean Saint-Vil (Jafrikayiti)
Gatineau, Canada
(original note dated: September 5, 2011)
Other U.N. Messengers of Peace who should be informed of this situation:
George Cluny
Wangary Maathai
Michael Douglas
Yo-Yo Ma