Dear family / friend,
As you likely know, I am not big on birthday gifts. However, this year, I really want you to do something special for me. It will likely cost you less than $20 and take no more than 10 minutes to package and deliver.
The following picture gallery will help illustrate what gift I wish to receive from you, why I know it will bring me much happiness and how you can make it so, today.
In July 2012, I was so privileged to spend a couple of days with family and friends in Port-à-Piment (Potapiman), a beautiful Haitian town. Our friend Konbit Pou Potapiman  (KPP) President, Frantz Jean, led us to a tour of the new hospital. My daughter Nouini spent the day at KPP camp while my brother Mozart and I followed the guides up the hill to Grotte Marie Jeanne.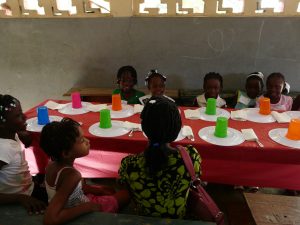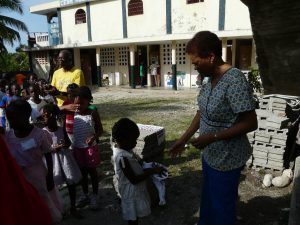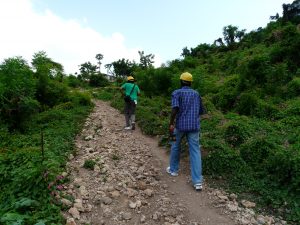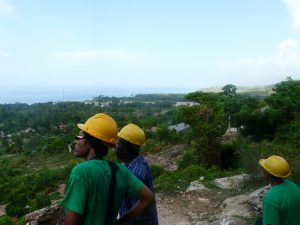 The view of the town of Potapiman, from surrounding mountains, is marvellous. The excursion into the caves was simply hexilarating. Mozart, Kebindayiti and I had a truly memorable experience.
Beyond the  lessons of scientific exploration, family bonding and pure joy of these moments, we found many treasures in the people, the land, the sea and fresh waters of Potapiman.
Needless to say, we were all sad to learn how hurricane Matthew has recently devasted this town and many others in the southern Haitian peninsula.

Thanks to the exitence of their organization, KPP, the folks of Potapiman are hard at work, rebuilding homes and schools, repairing their streets and planting seeds for the next harvest.
So, today, the best birthday gift I could receive is a positive response from a family member or a friend invited to support KPP. The great work KPP has been accomplishing for several years now is described on their web site, in all transparency and efficiency.
Indeed, it will make me happy on this special day to know a friend or family member has learned about this Haitian-led community empowerment initiative and has contributed $20 or more to  the KPP online fundraiser (paypal account).
I long a return to Potapiman and I hope, you too will someday visit Grotte Marie-Jeanne, enjoy the fun at Labeyi fresh water and, more importantly, get to experience the warmth and hospitality of the beautiful Moun Potapiman (people).