I welcome a March 10, 2017 commentary by Stephen Lewis in which he denounces the crimes the United Nations has committed against Haitians by cholera contagion. However, the objective facts reveal that even Mr. Lewis paints the UN Mission to Haiti (MINUSTAH) in a much better light than what is truly happening.
1) Contrary to Mr. Lewis' statement, the MINUSTAH was not sent to Haiti to help rebuild after the earthquake. The UN troops have been in Haiti since 2004 to consolidate the U.S-France-Canada led Coup d'Etat against Haiti and its leftist, progressive, president: Jean-Bertrand Aristide.
2) Since their deployment to Haiti, the UN troops have been found guilty of numerous massacres, especially in the poor neighborhoods. Countless people, including dozens of minors, have suffered sexual violence at the hands of UN personnel who remain unpunished. So, the cholera deaths and illness constitute only one type of documented crimes committed by the UN in Haiti.
3) As I mentioned directly to Mr. Stephen Lewis when I saw him last year in Ottawa, the illegal nature of the UN troops in Haiti must be denounced. Chapter 7 which was evoked to justify their deployment in 2004 is a great violation of the UN Charter and of the Haitian People's right to self-governance. Essentially, this is an imperialist, racist invasion masquerading as "humanitarianism". Pure white supremacist b.s.!
Failure by Lewis and others to acknowledge the illegal, anti-democratic and violent nature of the MINUSTAH in their speeches only helps the UN perpetuate confusion about their role and track record in Haiti.
Finally, there are too many non-Haitians making bold pronouncements about what Haiti needs. This is obviously happening with the diplomatic corps but also among so-called white liberals who seem to have learned little from experiences in the U.S., South-Africa etc…
Haitians are not children. We are neither mute or stupid. We have been articulating before, during and since the coup, what form of solidarity we expect from non-Haitian allies. Unfortunately, white privilege blinds so many into believing they know best when and how to lead our liberation struggle in our place. So, 13 years after the 2004 coup and foreign occupation, involving UN troops which brought the cholera contagion, here we are with foreign and Haitian criminals still enjoying full immunity as they get away with multiple crimes.
SPEAKING THE WHOLE TRUTH IS THE ONLY PATH TO REDEMPTION!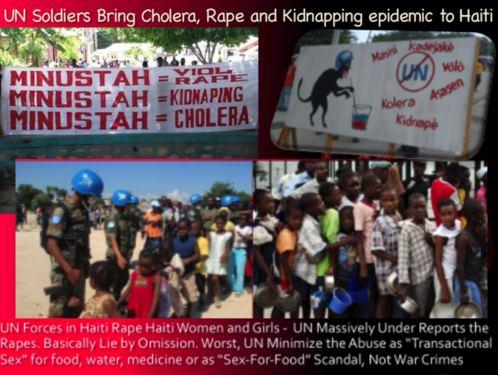 The Haitian Lawyers Leadership Network (HLLN) issued a recent petition which I proudly endorse and encourage others to also sign and help circulate, far and wide.
Among other things, HLLN's petition makes an urgent request for cultural-specific mental health counseling and rehabilitation for survivors of U.N. violence in Haiti; for UN document preservation and for an independent court and enforcement unit, not affiliated with the UN or the NGOs, to investigate and review all allegations and evidence of sexual abuse and exploitation in order  to stop Haitians from suffering further harm from United Nations predators.
Please join this Haitian-led Konbit for Justice, today:
https://www.ipetitions.com/petition/haiti-petition-un-sex-predators-victim-relief/?utm_source=facebook&utm_medium=social&utm_campaign=sign-pet